ULV fogging machine for water based liquids (SKU - ULVF01)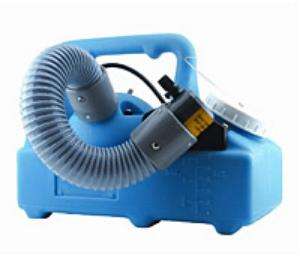 DESCRIPTION
ULV fogging machine that is stable and versatile and has adjustable: flow control; valve controls; volume and droplet size.

Please also see our AIRgene stand-alone (no fogger required) airborne disinfectant which is a non-flammable single-use product designed to quickly and easily disinfect airborne and surface viruses and germs without the need for a ULV fogging machine nor extensive PPE.  It is effective against coronavirus in 15 minutes.  Ideal for vehicles, ambulances, fire engines, trains, planes, coaches, custody suites, healthcare environments.  

Top of the range B&G Blastmaster 2600 model with 4ft hose. Other less industrial and lower priced options available (please see related products).

Available as 110V or 220V.

Use for wet fogging water based fogging agents.

Our recommended disinfectant is our Formula 429FC.

The ULV feature means that extremely small particle sizes can be produced which results in highly effective disinfection and odour control.

Use the course setting for duct sealing.

Features include:
adjustable flow control valve
corrosion proof 6 litre supply tank
specially designed 4 foot hose (1.22metres)
high speed motor
variable output from 0 – 540ml per minute
fingertip output control

Proven dependability and quality construction that is easy to use.

Carefully follow all instructions before use:
1. The fogger must be protected by a fuse/circuit breaker of: 5 amp – 240V.  This should be tested for electrical safety at least every 12 months whatever the local legal requirements are.
2. The unit must be earthed.
3. The molded plug (where fitted) must not be removed. Such removal would invalidate the CE mark and the warranty.
4. This fogger is not for outside use.
5. The Fogger should be mounted approximately two feet from the floor on a level surface.
6.  The needle valve should be closed when the unit is carried or not in use.
The item has been added to your basket