ULV Commander Tri-jet fogging machine for water based liquids - industrial trijet fogger (SKU - ULVF02)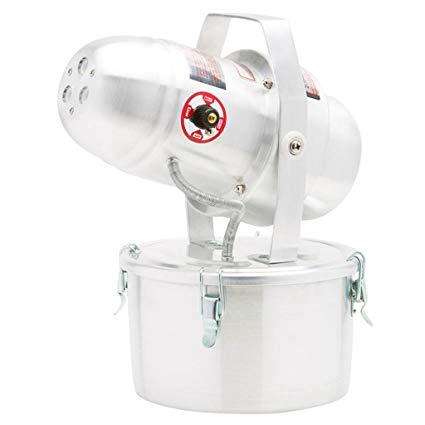 DESCRIPTION
The CE approved Commander Tri-Jet can be used as a chemical fogger or for humidity control.

The versatility of this unit allows you to fog with both water and oil based materials and it may be used either indoors or outdoors.  It is simple to use and available in both 110V and 240V.

Please also see our AIRgene stand-alone (no fogger required) airborne disinfectant which is a non-flammable single-use product designed to quickly and easily disinfect airborne and surface viruses and germs without the need for a ULV fogging machine nor extensive PPE.  It is effective against coronavirus in 15 minutes.  Ideal for vehicles, ambulances, fire engines, trains, planes, coaches, custody suites, healthcare environments.  

The combination of adjustable valve and the tornado action nozzle allows you to maximize mist up to 30 feet directionally.

Applications Key markets are: • Food plants • Pest control • Humidifying • Disinfecting • Hotel room smoke odours • Care home odour control • Animal health applications • Pesticides • Sanitisers

Liquid Capacity 4 Litres.

Particle Size 15-30 microns (Liquid viscosity and density affect particle size distribution).

Adjustable Discharge Rate 0-300ml/min.

Construction Materials Power head housing & tank Alluminium Nozzle, Celcon Tubing, Fuel and oil resistant vinyl, Fittings & control valve Brass.

Dimensions and weight:
H x W x L = 39 x 22 x 32cm
Approx. 5.4Kg (empty)

Regrettably, we have no foggers in stock and are awaiting a date for new stock.  Please contact us if you would like to be informed when new stock arrives. 
The item has been added to your basket