ULV fogging machine for water and oil based liquids - hand held mini fogger (SKU - ULVF03)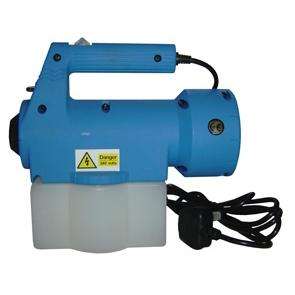 DESCRIPTION
A lightweight (approx 1.5kg when empty) 1Ltr 'mini fogger' - ideal for treating smaller or difficult to reach areas or for less 'industrial' applications. Nozzles can atomise both oil-based and water-based fluids.  

CE approved fogger constructed of corrosion resistant materials and available in 110V and 240V.

Please also see our AIRgene stand-alone (no fogger required) airborne disinfectant which is a non-flammable single-use product designed to quickly and easily disinfect airborne and surface viruses and germs without the need for a ULV fogging machine nor extensive PPE.  It is effective against coronavirus in 15 minutes.  Ideal for vehicles, ambulances, fire engines, trains, planes, coaches, custody suites, healthcare environments.  

Easy to use and output micron size can be adjusted from 15-40 microns for a fine light fog to a coarse mist. Produces up to 120ml per minute spray.

Small and easy to transport. Dimensions: 28cmL x 11cmW x 25cmH

Materials: Nozzle and housing - nylon; Tank - polyethylene; Tubing - fuel and oil resistant vinyl; Fittings - brass.

Perfect for applications such as:
• Disinfecting
• Spot odour control
• Local pest control
• Humidifying
• Planes, trains, coaches, taxis complete disinfection
• Hotel room smoke odours
• Care home odour control and disinfection
• Ambulances, Dental and GP surgeries and waiting rooms
• Rental car turnarounds
• Pesticides
• Sanitisers

Regrettably, we have no foggers in stock and are awaiting a date for new stock.  Please contact us if you would like to be informed when new stock arrives. 
The item has been added to your basket