Air mover/floor drying unit (SKU - EFDU)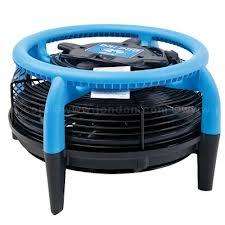 DESCRIPTION
Speed up the process of drying carpets, hard flooring and upholstery!

For use after mopping, cleaning, leaks and spills.

The unit directs air across the surface in all directions up to approx 3 metres/10ft to enhance evaporation and quickly remove surface moisture.  This will help reduce possible slip hazards.

Simply place the unit in the area to be dried, leave it to work whilst you carry on with other tasks!  This unit costs just 1-2 pence per hour in electricity.  It has a diameter of just 38.5cm/15" so can fit in small spaces and is easy to store.  It also has a stacking facility if you have more than one unit.

Reduce slip hazards, accidents, legal costs and waste!

By acting quickly to dry areas that are damp, this drying unit will reduce the number of slip hazards that are the cause of an enormous amount of major injuries. Such injuries often result in costly legal claims. 

Lightweight, easy to operate and transport!

Weighing in at just 4.8kg, this dryer can be moved easily.

No special training required as the controls are easy to use. 

How does it work?
With its 360° outlet grill design, the dryer pulls warm, dry air from above and directs it across an area of up to 3 metres at once

What are the specifications? 
| | |
| --- | --- |
| Supply voltage | 230V |
| Weight | 4.8kg |
| Dimensions (DxWxH) | 38.5cm x 38.5cm x 22.5cm |
| Max actual airflow | 1270 m³ per hour |
| Amp draw | 0.5 amps |
| Power consumption | 0.12 kw per hour |
| Safety cut-out | Thermal |
| Safety mark | CE approved |
| Housing | Injection moulded, wire grill |
| Stackable | Yes |
| Cable wrap/storage | Yes |
| Plug type | 3 pin BS1363 |
| Power cord length | 3 metres/10 ft |
| Product warranty | 2 years limited |
| Housing warranty | Lifetime |
The item has been added to your basket